Ingredients for the leeks compotee for 4 people :
2 leeks
150ml of cooking cream
20g of salt
8g of pepper
1 tea spoon of mustard
balsamic vinegar (selon votre goût)
1 tea spoon of whisky
2 spoon of honey
50g of butter
Preparation :
Mince and wash the leeks
In a hot pan, add butter, leeks, salt and pepper
Let it cook over high heat 2min
Add the whisky and flame
Add the cream, honey, mustard and let it cook over low heat for 3-4min
Ingredients for scallop :
20g of butter
15g of salt
6g of pepper
30g of honey
1 spoon of yuzu juice or green lemon juice
Preparation :
Melt the butter in a hot pan
Grilled the scallops for 1-2min on each side
Deglaze with yuzu
Incorporate the honey and brush the scallops
Add salt and pepper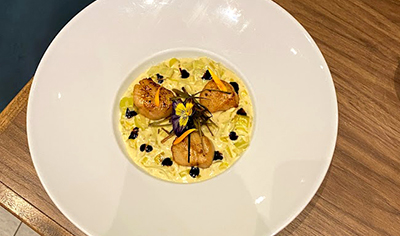 Beautifull and simple plating
In a soup plate add the leeks compotee
Add 3 scallops on the top
Add fried leeks in the center
Lay out around drops of balsamic vinegar
Put delicately an edible flower on the top
Enjoy !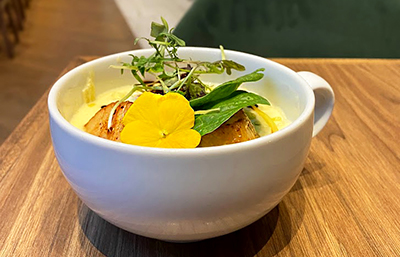 Cup plating
Add the leeks compotee
Add delicately the scallops on the top
Lay out drops of mashed carrots and balsamic vinegar aroud the scallops
Add spinach leaves vertically between the scallops
Spread thin slice of carrots and an edible flower in the middle
Taste it !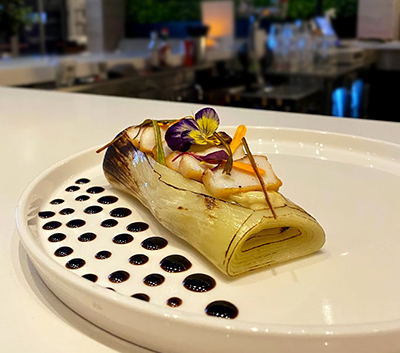 Elegant and fancy plating : inside the leak
Cut one leek to keep a piece of 6 inches
Put it in a vacuum package with butter, salt and pepper then steam it at 176

°F

for 14min
Let cool then dig the leeks by making an incision of 4 inches on the length and 1.5 inches on the width
Flame the leek with a cooking torch
Add the leaks compotee inside
Place the slice of scallops on it
Put delicately on the top an edible flower, petals and fried leeks
Lay out drops of balsamic vinegar on the plate
Bon appétit !