Kevin, our chef chef from the Sens Restaurant is sharing a sweet and yummy recipe with you :
a tiramisu and 3 ways to dress it !
Ingrédients for the perfumed whipped cream :
- 500ml of milk
- 700ml of cream
- 20g de gelatin
- 450g of Gianduja (option) OR mascarpon with sweet clover or vanilla essence (or your favorite parfum)

Preparation :
Add the milk and the cream in a saucepan and boil it.
Put it on the Gianduja when it's hot OR on the mascarpone, mix it then incorporate the gelatin.
Place a film (Saran type) directly on the cream then put it in the fridge for 2 hours.


Ingredients for the tiramisu cream :
- 4 eggs
- 40g of sugar
- 400g of mascarpone
- 4 spoons of amaretto
- option :

2 Co2 cartridges if you have a espuma siphon



Preparation :
Mix the ingredients all together in a mixer until you have a whipped cream OR in a thermomix speed 5 for 7 minutes
Optionnel : use 2 Co2 cartriges in your espuma siphon
Put it in the fridge for 2 hours


Ladyfingers :
You can by them or do it yourself.
Click here to find an exemple of ladyfingers recipe
Depending of the dressing chosen, if they are homemade you can make :
- rounds shapes, like a bagel, with a diameter of 12cm outside and 8cm inside
or basics rounds shapes with a diameter of 4cm
or classical ladyfingers


Coffe preparation :
Mix 2 cups of expresso or strong coffee with 2 tablespoons of amaretto (you can use decaf if you prefer)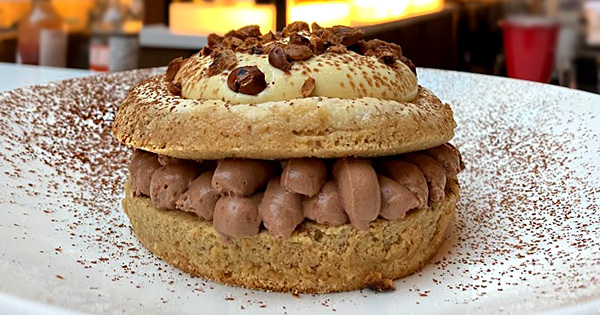 An original dress up similar to a Paris-Brest
Soak the biscuit in the coffee preparation then place it the center of the plate
With the help of a piping bag, put two layers of perfumed whipped cream on it*
Place carefully an other biscuit on the cream
Incorporate in the center of the biscuit the tiramisu cream
Add nuts on the top
Enjoy it !

*Pssst..if you don't have a piping bag, you can use a freezer bag by cutting one angle !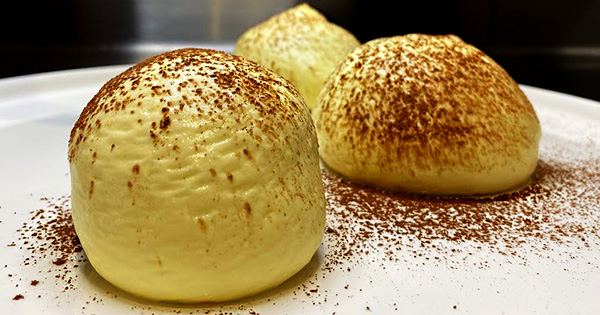 Refine dress up
Soak 3 biscuits in the coffee preparation, place them with enough space on a plate
Add the perfumed whipped cream & the nuts on the biscuit
Put carefully a biscuit on the top of the cream
Cover each biscuit with tiramisu cream by using a piping bag (no worries if you don't have one, use a spoon or a freezer bag, it's still going to be delicious !!)
Taste it !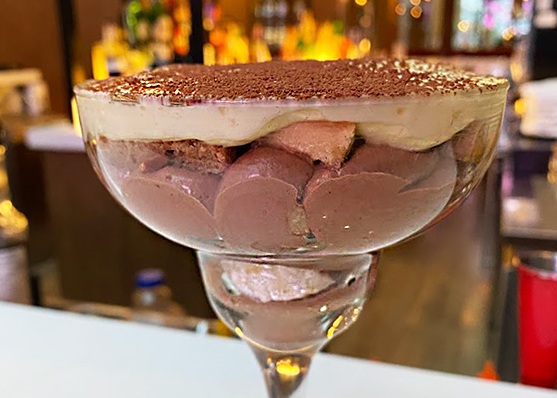 Chic and simple dress up
Put a layer of perfumed whipped cream at the bottom of the glass
Add pieces of biscuits
Place nuts on the top
Repeat those steps until the top of the glass
Add a thick, smooth layer of cream on the top
Sprinkle with cacao
Bon appétit !